All the content from the Blood & Clots series can be found here.
CanMEDS Roles addressed: Professional, Collaborator, Medical expert
As a Thrombosis specialist, I am often paged by emergency physicians and orthopedic surgeons requesting anticoagulation reversal in order to facilitate surgery. There are some simple and important points to remember when dealing with this clinical scenario.
Case Description
It is 8am on Monday morning and you are the orthopedic resident on call today. The night resident asked you to review the 83-year-old woman who presented to the emergency department after falling out of bed during the night. She has an intertrochanteric hip fracture and will require surgical fixation of the fracture as soon as possible.
The patient is confused. You notice on the electronic medical records that she was diagnosed with a deep vein thrombosis (DVT) of the opposite leg 4 months ago. The residential home where she lives supervises her medications and have sent a copy of her drug administration chart. She is prescribed rivaroxaban 20mg daily. Her INR is 1.6.
The orthopedic team is very keen to operate on her today. You are unsure whether the rivaroxaban will have worn off by the afternoon, and you are unsure whether this matters.
Risk of bleeding with hip surgery
Hip surgery is associated with blood loss in the range of 1.5-2.5L 1. Approximately half of the patients undergoing  hip fracture surgery require a blood transfusion 2 3. Over the past decade, there has been a concerted effort to reduce the volume of blood loss in these patients, since excessive bleeding is associated with a higher risk of postoperative death, postoperative comorbidity (such as acute coronary events and acute kidney injury), as well as wound infections and dehiscence. Administration of tranexamic acid during surgery is now standard practice. Patient blood management programs and intraoperative cell salvage are becoming increasingly more common with the goal of preventing unnecessary transfusions.
Although there are no trials comparing hip surgery in patients on therapeutic anticoagulation to those who are not, it is reasonable to assume that patients on therapeutic anticoagulation will lose a greater volume of blood. Bleeding increases the risk of death and morbidity. Hip fracture patients are not safe for surgery until their anticoagulation has either been reversed, or has worn off. In addition to the risk of major bleeding, anesthesiologists will not administer a spinal or epidural block in patients receiving anticoagulation.
Should the patient receive a reversal agent?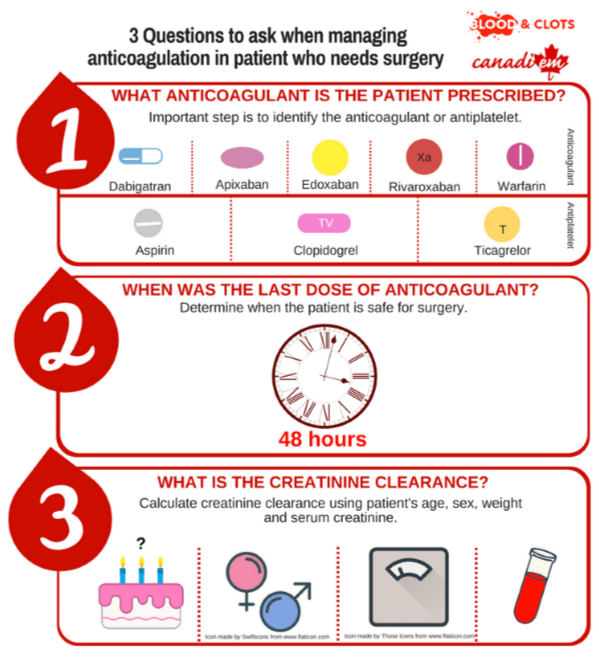 There are three key questions to ask when managing anticoagulation in a patient who needs an urgent surgery or procedure. Please see Table 1 below for details.
Table 1 – Key Questions to ask about a Periprocedural Patient who is taking an Anticoagulant
Question
Why it is important
1. What anticoagulant is the patient prescribed?

This may seem obvious, but I am frequently told a patient is prescribed dabigatran when they are taking rivaroxaban (or apixaban). Identifying the anticoagulant is very important because this will guide the need for and choice of reversal therapy.

Dabigatran now has a reversal agent (Idarucizumab) 4.Rivaroxaban, edoxaban and apixaban have no licensed reversal agent (although Andexanet 5 is being assessed in an international cohort study). Dabigatran is extremely sensitive to renal impairment and can accumulate in patients with a creatinine clearance under 50 ml/min. Apixaban, rivaroxaban and edoxaban are excreted by other routes in the body, not only the kidneys. Warfarin will continue to suppress the vitamin K-dependent clotting factors for up to 5 days.

2. When was the last dose of the anticoagulant?
This information is essential in order to determine when the patient is safe for surgery. In patients with normal renal function, dabigatran, apixaban, edoxaban and rivaroxaban anticoagulant effects will be gone 24-48 hours after the last dose. For these drugs, as a general rule you should wait 4 – 5 x the half life of the drug prior to performing surgery with a higher risk of bleeding. This means waiting 48 hours from the time of the last tablet.
3. What is the creatinine clearance?

Always calculate the creatinine clearance using the patient's age, sex, weight and serum creatinine. There are many apps to help with this, including here. Do not use the lab estimated GFR, as this assumes certain parameters such as weight.

If the patient takes dabigatran  and the creatinine clearance is between 30 and 50 ml/min, the anticoagulant effect maybe prolonged for up to 4 days.

If the patient takes dabigatran, apixaban, rivaroxaban or edoxaban, and their creatinine clearance is <30 ml/min, they will remain anticoagulated for 4 days, possibly longer.

Warfarin's anticoagulant effect is independent of renal function.
Case Conclusion
The patient had a creatinine clearance of 50 ml/min. Her rivaroxaban was stopped and her surgery was booked for two days later. She started rivaroxaban 10mg daily on day 1 postoperatively, and on day 5 postoperatively, she resumed her normal dose of rivaroxaban (20mg daily). She required two units of blood during surgery and had an uneventful recovery.
Main Messages
Always verify the name of the anticoagulant.
Always verify the date and time of the last dose of the anticoagulant.
Always calculate the creatinine clearance. Do not rely on the lab estimated GFR.
Consider the urgency and importance of the surgery.
Consider the risk of bleeding associated with surgery.
Consider the risk of clotting (venous thrombosis or stroke).
Other Frequently Asked Questions
Question 1: Should this patient receive anticoagulation reversal?
Answer: There is no approved reversal agent for rivaroxaban, apixaban or edoxaban (although Andexanet may become available in the near future). In the case above, the orthopedic team had to wait for 48 hours after the last rivaroxaban tablet was taken before performing surgery.
Idarucizumab is given IV to reverse dabigatran.4 However, if this woman had been taking dabigatran, I would not have given her Idarucizumab because her surgery is urgent (not an emergency and not life saving). Additionally, she was diagnosed with DVT of the other leg 4 months ago. Hip fracture surgery has a high risk of venous thrombosis and emergency reversal of dabigatran has a risk of recurrent thrombosis.
If the patient was prescribed warfarin instead for the DVT, she should be given vitamin K 10 mg IV which will bring her INR down to <1.4 in 12 – 24 hours. I would not reverse her with prothrombin complex concentrate (PCC, such as Octaplex or Beriplex) because of the inherent thrombotic risk with hip surgery in combination with the risk of recurrent thrombosis with PCC.
Question 2:  Can I use the INR or aPTT to monitor the anticoagulant effect?
Answer: Rivaroxaban, apixaban, dabigatran and edoxaban have variable and unpredictable effects on the INR and aPTT. If the INR and aPTT are normal, the patient is unlikely to be anticoagulated; however, there remains a very small chance of anticoagulation. Unlike warfarin, INR levels do not correlate with the degree of anticoagulation.
Some hospitals can run anti-Xa assays, which are calibrated for rivaroxaban or apixaban. In general, these assays cannot be ordered routinely and currently have a limited role in assessing clinical anticoagulation effect. Anti-Xa assays do not measure the effect of dabigatran.
All the content from the Blood & Clots series can be found here.
This post was reviewed by Mark Woodcroft, Teresa Chan and copyedited by Rebecca Dang. 
References
(Visited 2,352 times, 1 visits today)