Introduction
Methoxyflurane, also known as Penthrox, is an inhaled analgesic that was first used in the early 1960s for general anaesthesia.​1​ While initially popular, reports of serious side effects including hepatotoxicity and irreversible dose-dependent nephrotoxicity led to its reduced usage as a general anesthetic by the 1970s.​2​ Nevertheless, due to its non-opioid nature and short half-life, methoxyflurane has found new life as a short acting analgesic for moderate to severe pain in several prehospital and ED settings. It has been safely used extensively in New Zealand and Australia for procedural analgesia and trauma-related pain.​3​ In 2018, methoxyflurane was approved by Health Canada​4​ and current clinical trials are underway to elucidate the utility of methoxyflurane in treating acute pain in the ED.​5​
[bg_faq_start]
Pharmacology
Methoxyflurane, unlike its other inhaled anaesthetic counterparts, also has powerful analgesic properties. Following inhalation, methoxyflurane is absorbed into the bloodstream before diffusing into adipose tissue. Onset of pain relief is approximately 3-4 minutes, comparable to opioid alternatives such as IV morphine (5 minutes).​6​
Methoxyflurane does have dose-dependent nephrotoxic effects with a handful of documented cases of fatal renal toxicity, leading to its phase-out as an anesthetic agent.​2​ However, analgesic use of methoxyflurane does not carry a risk of nephrotoxicity.​7​ Nevertheless, methoxyflurane should be avoided in patients with pre-existing renal dysfunction and holding nephrotoxic medications should be considered. Other minor side effects have been documented, such as drowsiness, dizziness, dry mouth, headache, hypotension, nausea, and diaphoresis.​3​
[bg_faq_end][bg_faq_start]
Why Methoxyflurane?
Pain continues to be one of the most common yet under-treated complaints in the ED. Analgesia is often under-assessed or under-dosed, leading to suboptimal pain management. Furthermore, delays in analgesia administration within the ED has been well documented.​8​ These issues are exacerbated in the pre-hospital setting, where obtaining intravenous access may be prohibitive and low-potency oral analgesics insufficient. Methoxyflurane provides a potent and convenient alternative, providing effective analgesia through metered-dose inhalers (MDIs), otherwise known as the "green whistle".
Many studies have investigated the potential role of self-administered methoxyflurane as an analgesic. Trials have demonstrated increased effectiveness in pain reduction compared to both placebo ​9​ and to standard care.​10,11​ Other studies have shown that intranasal fentanyl and intravenous morphine are more effective analgesics, although methoxyflurane comes with the obvious benefit of its non-narcotic and non-invasive nature.​8​ In their systematic review, Grindlay and Babl found that analgesic doses of methoxyflurane were not associated with significant adverse effects.​3​ Indeed, RCIs in Spain and England investigating methoxyflurane versus standard analgesia found that adverse events were largely mild and resolved the same day.​10​
With a quick onset of action and good tolerability profile paired with its non-invasive ease of administration, methoxyflurane has promising potential in treating pain both in the pre-hospital and ED setting. Given its portability in its MDIs and lack of refrigeration needed, uses could additionally extend to austere settings in event or wilderness medicine.
[bg_faq_end][bg_faq_start]
Suggested Use
Methoxyflurane is administered via MDIs in 3mL doses. Patients can self administer by inhaling and exhaling through the mouthpiece of the inhaler (the "green whistle"). The inhaler also has a diluter hole that the patient can cover with their finger if stronger analgesia is required. A second 3mL inhaler can be provided during a single administration period if analgesia is insufficient. Use on consecutive days is not recommended, and total weekly usage should not exceed 15mL.
Methoxyflurane appears to be an effective, easy to administer first-line alternative to analgesics for pain management in adults, particularly in those who require stronger analgesia than NSAIDs, without intravenous access, or declining opioid analgesia. Its rapid-acting effects make it also an effective bridging agent until additional analgesia can take effect, both in ED triage and the pre-hospital setting.
Its use should be avoided in patients who are expected to require surgery, with clinically significant renal impairment, at risk for malignant hyperthermia, or with altered level of consciousness. It should be used with caution in patients with hypotension or bradycardia. Methoxyflurane has also not been studied in pregnant or breastfeeding populations.
[bg_faq_end][bg_faq_start]
Conclusion
Methoxyflurane, despite its volatile history as an anesthetic (pun intended), has a promising future as an analgesic agent both in the pre-hospital and ED setting. While research is still emerging, including Health Canada trials for use in Canada, many studies have demonstrated both its effectiveness as an analgesic and the added advantages of its portability and non-invasive administration.
N.B. There is a lack of evidence for whether methoxyflurane inhaler use is an aerosol generating medical procedure; clinicians should consider methoxyflurane use in the broader context of COVID-19 and potential aerosol generation with inhaler use.
[bg_faq_end][bg_faq_start]
Key Takeaways
Methoxyflurane is a promising non-opioid, non-invasive analgesic that can effectively reduce mild to severe pain in an ED setting. Administer via MDI up to 3 puffs. Care should be taken to avoid giving it to patients with pre existing renal conditions.
Staff Physician Pearls:
Methoxyflurane or Penthrox is an emerging non-opioid based analgesic that can be safely used in the Emergency Department. In certain centres around Canada, it is already being utilized as a fast and effective way to treat pain amongst common presentations (ex. shoulder dislocations in healthy adults). Additionally, due to the fact that it is administered via MDI, it can be given extremely quickly and without invasive techniques such as IV/IM/SC. Additionally, it has high potential for benefit in patients with addictions to pain medications such as opioids and with patients with difficult IV access. Keep in mind, it does have some historical connections with renal dysfunction, so a thorough consideration should be given when administering this medication in patients with renal dysfunction or medications that may cause renal issues. Lastly, nursing staff and other multidisciplinary team members will need some training before use and education regarding the medication (side effects and contraindications) will be helpful for successful use.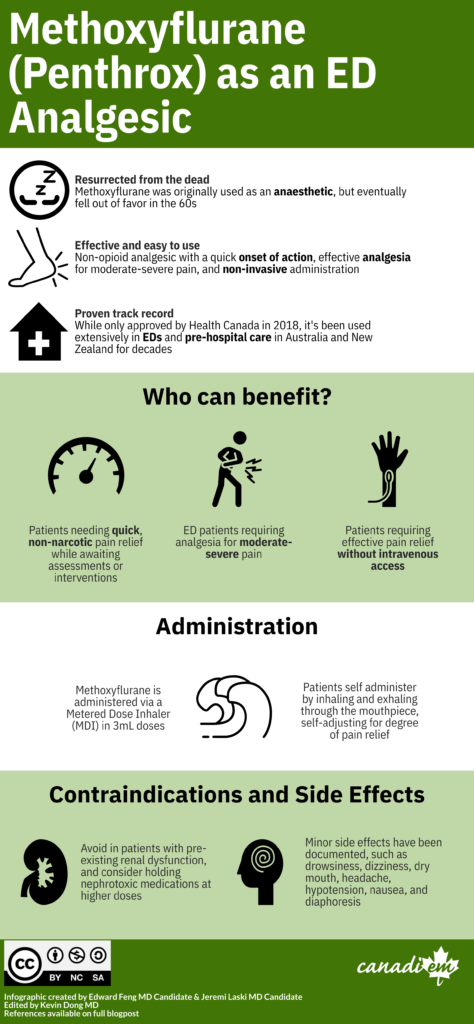 [bg_faq_end][bg_faq_start]
Suggested Links
InMEDIATE and RAMPED Trials: RCIs comparing methoxyflurane to standard analgesia
STOP!: 2014 RCI comparing methoxyflurane to placebo
Blair & Frampton: Profile of Methoxyflurane use in EU
Podcast discussing RAMPED Trial
[bg_faq_end]
1.

ARTUSIO J, VAN P, HUNT R, TIERS R, ALEXANDER M. A clinical evaluation of methoxyflurane in man.

Anesthesiology

. 1960;21:512-517. doi:

10.1097/00000542-196009000-00009

3.

Grindlay J, Babl F. Review article: Efficacy and safety of methoxyflurane analgesia in the emergency department and prehospital setting.

Emerg Med Australas

. 2009;21(1):4-11. doi:

10.1111/j.1742-6723.2009.01153.x

6.

Blair HA, Frampton JE. Methoxyflurane inhalation vapour in trauma pain: a profile of its use in the EU.

Drugs Ther Perspect

. Published online July 31, 2017:403-408. doi:

10.1007/s40267-017-0433-7

7.

Dayan A. Analgesic use of inhaled methoxyflurane: Evaluation of its potential nephrotoxicity.

Hum Exp Toxicol

. 2016;35(1):91-100. doi:

10.1177/0960327115578743

8.

Middleton P, Simpson P, Sinclair G, Dobbins T, Math B, Bendall J. Effectiveness of morphine, fentanyl, and methoxyflurane in the prehospital setting.

Prehosp Emerg Care

. 2010;14(4):439-447. doi:

10.3109/10903127.2010.497896

9.

Coffey F, Wright J, Hartshorn S, et al. STOP!: a randomised, double-blind, placebo-controlled study of the efficacy and safety of methoxyflurane for the treatment of acute pain.

Emerg Med J

. 2014;31(8):613-618. doi:

10.1136/emermed-2013-202909

10.

Borobia A, Collado S, Cardona C, et al. Inhaled Methoxyflurane Provides Greater Analgesia and Faster Onset of Action Versus Standard Analgesia in Patients With Trauma Pain: InMEDIATE: A Randomized Controlled Trial in Emergency Departments.

Ann Emerg Med

. 2020;75(3):315-328. doi:

10.1016/j.annemergmed.2019.07.028

11.

Brichko L, Gaddam R, Roman C, et al. Rapid Administration of Methoxyflurane to Patients in the Emergency Department (RAMPED) Study: A Randomized Controlled Trial of Methoxyflurane Versus Standard Care. Miner J, ed.

Acad Emerg Med

. Published online October 28, 2020:164-171. doi:

10.1111/acem.14144