Case Presentation
The year is 1743, and a complicated love story involving two passionate relationships with one woman, Claire, unravels. Her two lovers, Frank Randall and Jamie, find themselves in sword combat, fighting over their one true love. Unfortunately, despite putting up a good fight, Randall finds himself struck in his genitals during the duel. After rushing to the hospital via horse-drawn carriage, Randall presents with a penetrating penile injury to the ED. Although attempting to remain stoic in front of Claire, Randall is distressed and in pain, applying pressure to his groin.
Clinical exam reveals stable vitals, and an otherwise healthy 34-year-old male. Randall denies any other medical problems and denies prior genital injuries, despite numerous sword duels. There is a penetrating laceration through the lateral aspect of the penile shaft. There is no obvious swelling or hematoma. No perineal hematoma or scrotal ecchymosis is found and the testes have not been harmed. Is it unclear if the scrotal dartos fascia is penetrated. Further examination of the surrounding structures do not reveal any ecchymosis, hematomas, or distorted anatomy. However, there is non-pulsatile blood coming from the urethral meatus. No active bleeding is noted elsewhere. Tenderness is localized over the incision. A DRE is unremarkable.
On further questioning, Randall denies any urinary or gastrointestinal symptoms, however, he notes that he has been too nervous to attempt voiding since the injury.
Objectives
General approach on presentation, when to suspect an anterior urethral injury, focusing on penetrative penile injuries (lots of literature seems to overlap with blunt penile injuries)
Differential including femoral arteries, iliacs, adjacent structures
Imaging modalities (including retrograde urethrogram, scrotal and penile ultrasound)
Treatment/intervention: indications for surgery (AAST urethra injury scale), non operative management including interim management until surgery (catheter drainage)
General approach
This type of injury can be quite distressing for patients. Randall presents with a clear mechanism of injury and, along with Claire, he nervously recaps every detail of the sword duel. They are both distressed and have valid concerns about future function. Despite wanting to jump into providing reassurance, it is important to follow a structured approach.
Although Randall presents with an obvious injury mechanism, the approach in the ED for this injury is similar to other injuries. Ensuring patient stability by following ATLS principles is of primary importance. Despite obvious penetrating injuries, it is important to complete a primary survey and address any immediate life-threatening pathologies the patient may have. An AMPLE (Allergies, Medications, Past Medical History, Last Meal, Events) history should be obtained. Important diagnoses to rule out include injuries to adjacent vessels (aorta, femoral and iliacs), bladder trauma, fractures, and intra-abdominal hemorrhage. FAST should be obtained along with the primary survey to assess for intra-abdominal bleeding. Keep in mind if bleeding occurs into the pelvis, it could collect in the retroperitoneum and would thus not show up on a FAST scan. A head-to-toe secondary survey should be performed to evaluate for any other injuries or GI/urinary symptoms. The workup of penile injuries follows a relatively straightforward decision tree (see Figure 1).
Urethral injuries carry high morbidity so proper evaluation of potential injury is extremely important. The clinical approach to all penile injuries begins with differentiating penetrating versus non-penetrating injuries (see Figure 2). Next, examine soft tissues and surrounding structures, including a DRE, for a high riding prostate. Evaluate the suspicion of an anterior urethral injury by inspecting the urethral meatus. Blood here is the most common finding associated with an anterior urethral injury, however additional clinical findings may include urinary symptoms such as difficulty voiding, or signs such as ecchymosis around the perineum or genitals.​1​ Should blood be seen at the urethral meatus, urethral instrumentation should be avoided until further imaging is completed. Urethral injury workup was previously covered in depth on CanadiEM.
The evaluation of circumferential skin lesions is particularly important, as it can cause chronic lymphedema distally.
Investigations
Imaging
Unfortunately for Randall, the first formally documented real-time ultrasound was used in 1951.​2​ Stuck in 1743, Randall would have to wait a couple hundred years before being worked up appropriately. Luckily for present day patients, ultrasound is readily available, and is the first choice of imaging modality for all penetrating penile injuries, particularly with high resolution and high frequency, as well as Doppler studies.​3,4​ Loss of the tunica outline and contour and heterogeneity are significant findings. MRI can be used as an adjunct to further investigate suspected discontinuities in the tunica albuginea.​5​
CT angiography should also be used if a vascular injury due to the penetrating mechanism of injury. The sensitivity of CT angiography in pelvic injuries approaches 100% for venous hemorrhages and 89% for arterial hemorrhages.​6​
Should urethral injury be suspected, the gold standard for further investigation is dynamic retrograde urethrography.​5,7​ If this is unremarkable, then a urethral contusion is suspected, and conservative management including a suprapubic or transurethral catheter should be employed.
Treatment
Suprapubic Catheter Insertion Steps:​9​
With the patient in the supine position, identify the bladder with the guidance of point of care ultrasound (POCUS).
Maintain sterile technique throughout the procedure. Use an antiseptic solution to prepare the skin over the suprapubic region, draping appropriately to ensure sterile technique. Inject the local anesthetic into the area, making sure to aspirate after penetrating the subcutaneous layer to avoid injecting intravascularly.
Using a scalpel, make a 1-cm horizontal skin incision in the midline, approximately 5 cm above the symphysis pubis. Ultrasound can be used for guidance and to determine if the bladder is full.
Place the metal obturator into the lumen of the catheter, until the sharp end of the obturator extends beyond the tip of the catheter. Advance together at a 60-degree caudal angle toward the bladder neck, through the premade incision (see image below). Advance the catheter through the rectus sheath and muscle, into the dome of the bladder. This is generally approximately 5 cm below the skin in adults.
Advance an additional 5 cm in adults to ensure appropriate positioning. Remove the obturator; urine will be seen passing from the suprapubic catheter. If the catheter has a balloon tip, inflate the balloon with sterile saline. If using a SupraFoley suprapubic catheter, there is an introducer that consists of a plastic sheath. Insert the sharp plastic obturator through this sheath, as described above, then remove the obturator and replace it with a Foley catheter. Inflate the balloon with 5-10mL of saline. Pull down and remove the tab located on the top edge of the plastic sheath, allowing removal of the sheath while leaving the catheter in place. Pull back the catheter until the wings, coil, or balloon is resting against the dome of the bladder.
Secure the catheter in place externally with a nylon suture.
Irrigate the catheter using sterile saline, to ensure appropriate drainage and position.
Connect a drainage bag to the catheter.
Alternative Suprapubic Catheter Insertion: Seldinger technique​10​
Steps 1-2 same as above.
Make a 1cm incision in the skin, as described above. Puncture the bladder with a 18 gauge needle, aspirate to confirm positioning. Introduce the floppy end of the three-stage 0.035 inch guidewire through the needle, then remove the needle, leaving the guidewire in the bladder.
Introduce the trocar and sheath over the guidewire until safely positioned in the bladder.
Remove the trocar and guidewire from the outer sheath, and insert a 14 or 16Fr catheter into the bladder.
When is surgical intervention needed?
Surgical intervention/exploration is indicated in up to 89% penetrating injuries to the penis or perineum as there is a high likelihood of anterior urethral injury that is difficult to rule out clinically and with imaging.​11​ It is recommended that all uncomplicated penetrating trauma to the anterior urethra should undergo prompt surgical repair.​7​
Additionally, should surrounding structures such as the scrotum be penetrated, surgery may be indicated as greater than 50% of penetrative scrotal injuries will result in testicular rupture.​3​ Further indications include evidence of tunica albuginea rupture, scrotal dartos penetration, or penile amputation on clinical exam or imaging.
Regardless of surgical vs conservative management, it is imperative that the bladder be drained to decrease the risk of infection, urethrocutaneous fistula, urethral stricture or diverticulum.​1,12​ If a urethral catheter cannot be used, then cystoscopy may be a useful aid. If the penetrative injury is extensive, involving surrounding tissues, then delayed urethral repair with initial catheter drainage is recommended.​7​
Patients should be followed for 12 months following urethral injury, ensuring no complications including stricture formation, incontinence, or erectile dysfunction has occurred.​7​
Back to the case
Wound debridement may be warranted in Randalls case. Should a superficial skin infection be suspected, he would be started on an oral antibiotic such as a cephalosporin. Additionally, as this is a penetrative injury with a foreign object, Randall's tetanus should be confirmed as up to date.
Due to the penetrative nature of Randall's injury, surgical intervention is indicated. This is further confirmed by the presence of blood at the urethral meatus, increasing our suspicion for an anterior urethral injury. A suprapubic catheter will be placed to drain his bladder.
Because Randall presented too quickly to the ED following his injury, you provide reassurance that both his urinary and sexual functioning should be preserved. He agrees to refrain from engaging in any further sword duels, at least until his current injury has healed.
How to insert a suprapubic catheter:
Key take-home points
Penetrating penile injuries are rare, but serious injuries that follow a simple treatment algorithm.
Important things to rule out/in: injuries to adjacent vessels (aorta, femoral and iliacs), bladder trauma, fractures and bleeding.
Imaging: Ultrasound is considered first line, with loss of the tunica outline and contour and heterogeneity are significant findings. Adjuncts including MRI can further help visualize soft tissue injuries. Additionally, should a vascular injury be suspected, CT angiography may be utilized. With high suspicion of urethral injury, dynamic retrograde urethrography should be utilized to further evaluate the injury.
Surgical intervention is indicated in the majority (up to 90%) of penetrating penile injuries.
Bladder drainage is imperative in all cases, generally achieved with urethral catheterization if no urethral injury is noted on imaging, or via the suprapubic approach if this is not feasible.
This post was copyedited by @jamievanderende.
Appendix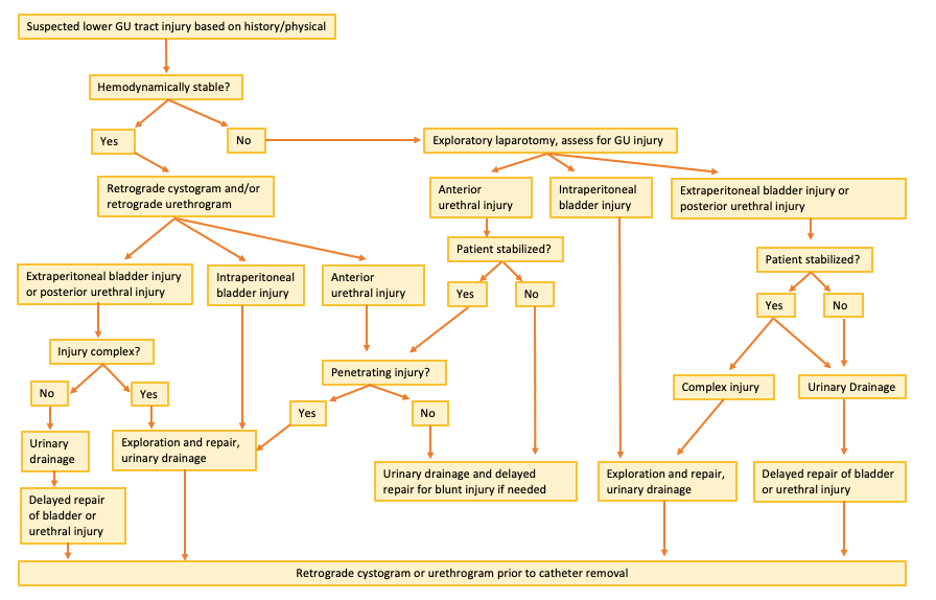 References
---
1.

Chapple C, Barbagli G, Jordan G, et al. Consensus statement on urethral trauma.

BJU Int

. Published online June 2004:1195-1202. doi:

10.1111/j.1464-410x.2004.04805.x

2.

Sarvazyan AP, Rudenko OV, Nyborg WL. Biomedical Applications of Radiation Force of Ultrasound: Historical Roots and Physical Basis.

Ultrasound in Medicine & Biology

. Published online September 2010:1379-1394. doi:

10.1016/j.ultrasmedbio.2010.05.015

3.

Buckley JC, McAninch JW. Use of Ultrasonography for the Diagnosis of Testicular Injuries in Blunt Scrotal Trauma.

Journal of Urology

. Published online January 2006:175-178. doi:

10.1016/s0022-5347(05)00048-0

4.

Dell'Atti L. The role of ultrasonography in the diagnosis and management of penile trauma.

J Ultrasound

. Published online January 22, 2016:161-166. doi:

10.1007/s40477-016-0195-4

5.

Cozzi D, Verrone GB, Agostini S, et al. Acute penile trauma: imaging features in the emergency setting.

Radiol med

. Published online July 13, 2019:1270-1280. doi:

10.1007/s11547-019-01065-1

6.

Fu C-Y, Wang S-Y, Liao C-H, et al. Computed tomography angiography provides limited benefit in the evaluation of patients with pelvic fractures.

The American Journal of Emergency Medicine

. Published online October 2014:1220-1224. doi:

10.1016/j.ajem.2014.07.021

7.

Morey AF, Brandes S, Dugi DD, et al. Urotrauma: AUA Guideline.

Journal of Urology

. Published online August 2014:327-335. doi:

10.1016/j.juro.2014.05.004

8.

Moore EE, Malangoni MA, Cogbill TH, et al. Organ Injury Scaling VII.

The Journal of Trauma: Injury, Infection, and Critical Care

. Published online September 1996:523-524. doi:

10.1097/00005373-199609000-00023

9.

Pfenninger J, Fowler G. Pfenninger and Fowler's Procedures for Primary Care e-Book : Expert Consult. 4th ed. Elsevier; 2019.

10.

Mohammed A, Khan A, Shergill IS, Gujral SS. A new model for suprapubic catheterization: the MediPlus Seldinger suprapubic catheter.

Expert Review of Medical Devices

. Published online November 2008:705-707. doi:

10.1586/17434440.5.6.705

11.

McCormick CS, Dumais MG, Johnsen NV, Voelzke BB, Hagedorn JC. Male genital trauma at a level 1 trauma center.

World J Urol

. Published online February 20, 2020:3283-3289. doi:

10.1007/s00345-020-03115-0

12.

Mundy AR, Andrich DE. Urethral trauma. Part I: introduction, history, anatomy, pathology, assessment and emergency management.

BJU International

. Published online July 19, 2011:310-327. doi:

10.1111/j.1464-410x.2011.10339.x
Reviewing with the Staff
Tessa has done a wonderful job of highlighting the "ins and outs" of penetrating penile trauma. Traumatic injuries to the external genitalia are rarely fatal, but can result in profound injuries that can permanently affect quality of life.
The astute physician needs to "pin point" the exact nature and location of the injury to appropriately manage these injuries. All patients with penetrating trauma to the penis require prompt surgical exploration, except in obviously superficial injuries that do not involve structures deeper than dartos fascia.
A high index of suspicion for associated urethral injury should be maintained. All wounds to the corpora should be debrided and irrigated. Urinary drainage is mandatory with deeper wounds, either with a urethral or suprapubic catheter.
Penetrating trauma to the penis can be managed well, as nicely described in Tessa's case report. It may test the urologists "mettle", but a sharply focused, steely physician should be able to foil the injury, often using blade to tame the dagger.
Dr. Saul Goodman
Dr. Saul Goodman has worked as a Urologist at the Chilliwack General Hospital since 1997. He is an Assistant Clinical Professor at the University of British Columbia, where he completed his residency, and graduated from Dalhousie Medical School in 1992.