This episode of CRACKCast covers Rosen's Chapter 26, Chest Pain. This chapter covers a broad approach to chest pain with emphasis on the 6 critical diagnoses you cannot miss in the ED.
[bg_faq_start]
Rosen's in Perspective
Symptom caused by numerous diseases
Afferent visceral fibers from the heart, lungs, great vessels, esophagus enter the same thoracic dorsal ganglia. This results in the same indistinct quality and location of pain. This is typically described as:

Burning
Aching
Stabbing
Pressure

Because these nerve segments overlap three segments above and below an individual level, the pain can be produced from the jaw to epigastrium with radiation.
[bg_faq_end] [bg_faq_start]
1) List 6 critical causes of chest pain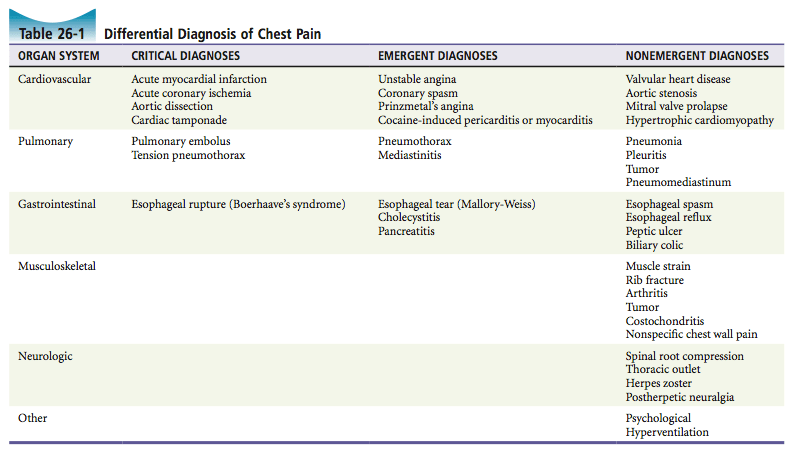 [bg_faq_end]
Wisecracks
[bg_faq_start]
1) Walk through a systems approach to chest pain including common and uncommon causes of chest pain
Some system causes to think about in addition to the BIG SIX
CARDIO (cocaine induced-angina/vasospasm)
PULMONARY
GI (Mallory-Weiss; cholecystitis; pancreatitis)
MSK (muscle strain; rib fracture; costochondritis; chest wall pain)
NEURO (spinal root compression; thoracic outlet syndrome; herpes zoster; post-herpetic neuralgia)
OTHER (psychological; hyperventilation)
[bg_faq_end][bg_faq_start]
2) Outline your approach to the person with sudden onset severe chest pain
Approach it similarly to acute onset dyspnea:

Simultaneously EVALUATE, IDENTIFY, and INTERVENE
MOVIE

Monitors
Oxygen
Vitals
IV
Equipment and environment

Labs
ECG
Portable CXR
Full history and physical
[bg_faq_end]